Suspenz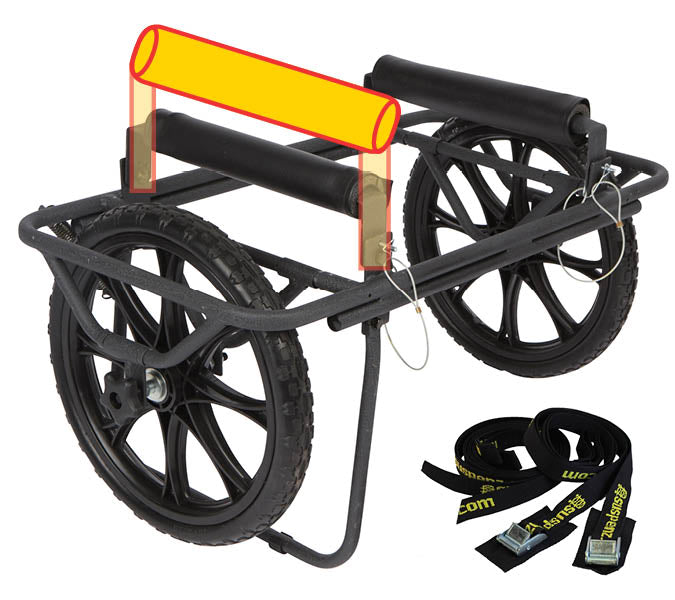 Suspenz Xtra Tall Bunker Bars (for All-Terrain Cart 2018+)
Free Shipping on all orders over $50
Free Returns and Exchanges
We Price Match
Expert Curated
Description
Need more clearance between your Kayak and the cart's wheel?
Swap the existing All-Terrain Cart BUNKER BARS™ with these for an additional 2" in height and 5-position adjustment.
Compatible with 2018 and newer models of our All-Terrain Super Duty & Mag-Lite Airless Carts.
These Xtra Tall BUNKER BARS™ convert the Suspenz All Terrain Super Duty Cart to fit: 
Old Town Sportsman Kayak, Native Ultimate Kayak, Ocean Kayak Malibu Pedal, 3 Waters Big Fish Kayak and similar fishing kayaks. When ordering these with the All-Terrain Super Duty Cart, we will credit you back the cost of Xtra Tall Bunker Bars to your order.  
Xtra Tall BUNKER BARS™ are angled and 2" taller to lift kayak for wheel clearance

Two mounting options fit different shaped hulls:
  12" spread:  angled "IN" toward each other
  19" spread:  angled "OUT" away from each other 

Engineered to greatly enhance stability
Designed for durability — oversized, heavy-duty foam covered with rugged, UV-protected poly fabric - Same that is on the All-Terrain 
Use the cart's cam-buckle straps for optimum stability
Weight capacity: 300 lbs