Berkley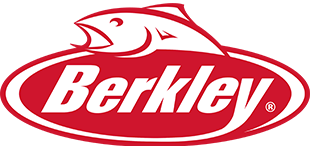 YOUR FISH. OUR SCIENCE.
Berkley Brand Profile:
In the domain of terminal tackle, baits and lures, rod and reel combos, and high-performance fishing line, Berkley is known as the world's leading fishing gear company. By committing significant resources to research and development — a continuing strategy that has resulted in countless product innovations, including Berkley Trilene, the Lightning Rod, PowerBait, FireLine, and more recently Gulp!? and Gulp! Alive, anglers everywhere can leverage their use of science to achieve the most important goal there is — to catch more fish. Berkley shares anglers' commitment to the sport, and by offering the broadest array of innovative solutions developed by committed anglers, their products fuel your passion for fishing. Shop their newest innovations, including the Berkley Slobberknocker, a scientifically superior bladed jig tuned to the frequency that attracts bass, particularly when paired with unmatched Powerbait® Flavor. Berkley saltwater hard baits survive the salt, and power bait jigs outfish all other jigs. Experience the fish-catching prowess Stunna with its sharp, side-to-side darting action, realistic baitfish shimmy, bewitching side flash, and optimized center of gravity for ultimate castability — it's peak fishing technology. Need a topwater lure that loves the chop? Discover the Berkley Choppo, a lure designed to deliver explosive top water action. It's all here for the taking. Berkley has done the science – now you catch the fish.
BIG Adventures is the proud manufacturer of Made-in-America Kayaks.
We are anglers, paddlers, and all around water enthusiasts. Getting on the water is in our veins and it has been our mission to share this obsession. We started and continue to be a Made in America kayak manufacturing company, honing in the craft of expertly engineered kayaks such as Bonafide, Native Watercraft, Liquidlogic, and Hurricane. With decades of experience, we decided to expand our offering and create a one-stop shop for all your paddling accessory and fishing needs.
There is no better feeling than getting out there, exploring a new or familiar waterway, the sound of a screaming reel, or the rush of adrenaline a new rapid offers. We have curated the trusted gear to allow you to do more of what you love and offer expert advice along the way. Let us be your favorite partner for all things watersports and for your next BIG adventure.
Explore all of Big Adventures
Shop everything and anything you might need to get on the water and keep you there from BIG Adventures.
Questions or Concerns on a Product? No Problem!
Our Product Experts Love helping our fellow paddlers and anglers find the perfect gear.
(Or, you can just call us to talk fishing.)