Gator Guards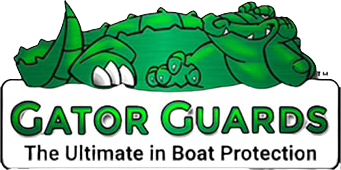 Gator Guards Brand Profile:
Protect your watercraft from bow to stern with trusted, durable, easy-to-install solutions engineered to make the most of your investment. Gator Guards is the leading global innovator of marine protection products, bringing you the best in protective technologies for over 20 years. Led by the KeelShield®, BowShield®, SkegShield®, GatorSkinz® and Hitch Guard product lines, Gator Guard products continue to create satisfied customers. Deep commitment to research and development, an innovative approach, and a passion for all things marine has made Gator Guard a company that is trusted to help your kayak last a lifetime. Find reinforced repair patches that are watertight and impenetrable, hitch guards guaranteed to protect your shins and knees, and patented keel protection guaranteed to last a lifetime, all with easy, do-it-yourself installation and 100% American made materials. For a smart and simple investment in your boat that will help protect it season after rugged season, look no further than Gator Guards for the first line of defense to protect your boat from damage. Worry less and fish more — rely on Gator Guard to protect your hull.
Just Prep, Peel, and Stick - Reinforced Repair Patch that Cures in Just Minutes!Repairs and protects Kayaks, Canoes, and Boats with Fiberglass, Aluminum, and Plastic surfaces. The preferred choice for...
BIG Adventures is the proud manufacturer of Made-in-America Kayaks.
We are anglers, paddlers, and all around water enthusiasts. Getting on the water is in our veins and it has been our mission to share this obsession. We started and continue to be a Made in America kayak manufacturing company, honing in the craft of expertly engineered kayaks such as Bonafide, Native Watercraft, Liquidlogic, and Hurricane. With decades of experience, we decided to expand our offering and create a one-stop shop for all your paddling accessory and fishing needs.
There is no better feeling than getting out there, exploring a new or familiar waterway, the sound of a screaming reel, or the rush of adrenaline a new rapid offers. We have curated the trusted gear to allow you to do more of what you love and offer expert advice along the way. Let us be your favorite partner for all things watersports and for your next BIG adventure.
Explore all of Big Adventures
Shop everything and anything you might need to get on the water and keep you there from BIG Adventures.
Questions or Concerns on a Product? No Problem!
Our Product Experts Love helping our fellow paddlers and anglers find the perfect gear.
(Or, you can just call us to talk fishing.)