Crazy Creek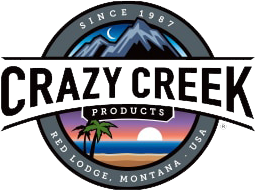 Crazy Creek Brand Profile:
Our origins start in Red Lodge, Montana, at the foot of the Beartooth Mountains. A backdrop that not only served as inspiration for our products, but as testing ground for our legendary chairs. Since 1987 we've been working to produce lasting outdoor products with a singular focus - to perfect "just sit there" no matter what terrain "there" might include. Crazy Creek® chairs and gear have traveled around the globe, and have been relied on by some of the top professionals in the outdoor world. From the backcountry in Northern Alaska, to backyards in Southern Florida, people have enjoyed the quality craftsmanship and attention to the small details that make our simple to use designs so versatile
HEX 2.0 Original Chair Our most packable lightweight chairs – are highly packable and great for ultra-light camping. Ideal whenever space and weight are a factor. Also perfect for day hikes...
BIG Adventures is the proud manufacturer of Made-in-America Kayaks.
We are anglers, paddlers, and all around water enthusiasts. Getting on the water is in our veins and it has been our mission to share this obsession. We started and continue to be a Made in America kayak manufacturing company, honing in the craft of expertly engineered kayaks such as Bonafide, Native Watercraft, Liquidlogic, and Hurricane. With decades of experience, we decided to expand our offering and create a one-stop shop for all your paddling accessory and fishing needs.
There is no better feeling than getting out there, exploring a new or familiar waterway, the sound of a screaming reel, or the rush of adrenaline a new rapid offers. We have curated the trusted gear to allow you to do more of what you love and offer expert advice along the way. Let us be your favorite partner for all things watersports and for your next BIG adventure.
Explore all of Big Adventures
Shop everything and anything you might need to get on the water and keep you there from BIG Adventures.
Questions or Concerns on a Product? No Problem!
Our Product Experts Love helping our fellow paddlers and anglers find the perfect gear.
(Or, you can just call us to talk fishing.)