Bending Branches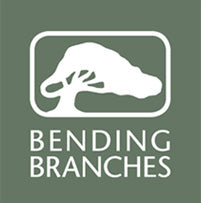 A 40-year testament to wood, willpower, and Wisconsin.
Bending Branches Brand Profile:
Bending Branches — No Better Companion On The Water
Bending Branches brings passion, experience, and craftsmanship together to build a smarter, more durable, more beautiful paddle. Since 1982, Bending Branches kayak fishing paddles, split paddles, and canoe paddles have been making a difference in how passionate paddlers fish, canoe, and kayak. Built to last and packed with extra features, a Bending Branches paddle will prove to be one of the most functional tools you'll ever take with you on the water. Developed over years of immersion in the community of kayaking anglers, the Bending Branches team has spent countless hours designing, prototyping, testing, and perfecting each of their paddles to meet anglers' needs. The result is a paddle that gets you to a great fishing spot easier and quicker and with less strain on your body. Every Bending Branches paddle is uniquely constructed — each is hand manufactured to provide high performance and a responsive feel for the journey no matter how long or how challenging your excursion. Be part of a 40-year testament to wood, willpower, and Wisconsin — choose a Bending Branches paddle and see the difference it makes on your kayaking adventure.
BIG Adventures is the proud manufacturer of Made-in-America Kayaks.
We are anglers, paddlers, and all around water enthusiasts. Getting on the water is in our veins and it has been our mission to share this obsession. We started and continue to be a Made in America kayak manufacturing company, honing in the craft of expertly engineered kayaks such as Bonafide, Native Watercraft, Liquidlogic, and Hurricane. With decades of experience, we decided to expand our offering and create a one-stop shop for all your paddling accessory and fishing needs.
There is no better feeling than getting out there, exploring a new or familiar waterway, the sound of a screaming reel, or the rush of adrenaline a new rapid offers. We have curated the trusted gear to allow you to do more of what you love and offer expert advice along the way. Let us be your favorite partner for all things watersports and for your next BIG adventure.
Explore all of Big Adventures
Shop everything and anything you might need to get on the water and keep you there from BIG Adventures.
Questions or Concerns on a Product? No Problem!
Our Product Experts Love helping our fellow paddlers and anglers find the perfect gear.
(Or, you can just call us to talk fishing.)