Ketch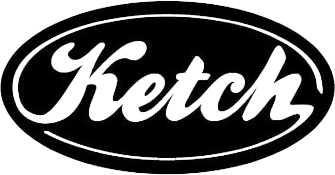 Ketch Brand Profile:
Ketch — The Only Fish Measuring Board You'll Ever Need
Ketch brings legendary accuracy to the tournament world with the most relied-upon fish measuring boards on the market. Ketch specializes in manufacturing the highest quality fishing products and accessories from 100% American-made materials, and each board is designed by anglers who are knowledgeable and passionate about fishing. The most accurate fish measuring board on the market, Ketch boards accommodate big fish and hold them while bringing unparalleled accuracy and ease-of-use to bass competitions, online challenges, and catch, photo, and release (CPR) tournaments. This extensive Ketch product line includes crappie boards, folding boards, board and cradle, and their own Ketch Scientific, the most accurate board on the market. Choose from high contrast colors and enjoy easy one-handed bumping, QR integration to ensure a level playing field for your tournament, and laser etched increments that won't fade. Need a sturdy hawg trough? Ketch boards are virtually indestructible. Take the challenge out of measuring and take award season by storm with the uncompromising quality and accuracy of a Ketch board — the only fish measuring board you'll ever need.
BIG Adventures is the proud manufacturer of Made-in-America Kayaks.
We are anglers, paddlers, and all around water enthusiasts. Getting on the water is in our veins and it has been our mission to share this obsession. We started and continue to be a Made in America kayak manufacturing company, honing in the craft of expertly engineered kayaks such as Bonafide, Native Watercraft, Liquidlogic, and Hurricane. With decades of experience, we decided to expand our offering and create a one-stop shop for all your paddling accessory and fishing needs.
There is no better feeling than getting out there, exploring a new or familiar waterway, the sound of a screaming reel, or the rush of adrenaline a new rapid offers. We have curated the trusted gear to allow you to do more of what you love and offer expert advice along the way. Let us be your favorite partner for all things watersports and for your next BIG adventure.
Explore all of Big Adventures
Shop everything and anything you might need to get on the water and keep you there from BIG Adventures.
Questions or Concerns on a Product? No Problem!
Our Product Experts Love helping our fellow paddlers and anglers find the perfect gear.
(Or, you can just call us to talk fishing.)