YakAttack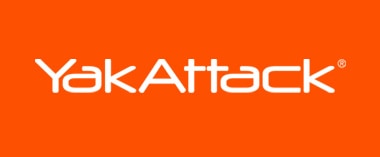 A 40-year testament to wood, willpower, and Wisconsin.
Free Shipping on all orders over $50
Free Returns and Exchanges
We Price Match
Expert Curated
Description
The GridLoc MightyMount is a low profile, highly versatile mount with a small footprint designed to accommodate track-mounted accessories utilizing a single attachment point. The hole pattern featured on this mount was specifically designed for use with the GridLoc Mounting Platform found on the YakAttack BlackPak Pro, but it can also be attached to rotomolded or thermoformed watercrafts.
The GridLoc MightyMount with 90 Degree Adapter is the perfect mount for anglers to attach their VISICarbon Pro, PanFish Pro Camera Mount, or other track-mounted YakAttack accessories to the BlackPak Pro. For camera mounts and visibility flags/LED, this mount helps increase the overall effective height of the flag/LED or camera angle, helping you capture that unique overhead camera shot or increased visibility of your flag/LED while offshore or in areas with tall grass. The addition of the 90 Degree Adapter puts LockNLoad accessories like camera mounts and rod holders in the vertical orientation, helping maximize the true adjustability that is built into the LockNLoad system. The GridLoc MightyMount is sold with and without the 90º adapter.
Footprint: 2.13" x 2.13"
Hole Pattern: 1.5" x 1.5"
Compatible with YakAttack track mounted accessories that use a single point of attachment
New hole pattern designed around the GridLoc Mounting Platform found on the BlackPak Pro
Hardware included is intended for installations on the BlackPak Pro or rotomolded and thermoformed watercrafts
Phillips screwdriver required for installation on BlackPak Pro
Includes #10 stainless steel self-threading screws
1/8" drill bit needed for surface mounted installs on kayaks
Built for use in harsh marine conditions
Made in the USA
Built for Life Guarantee
US Patent #9863576
SKU: MMGL-1001