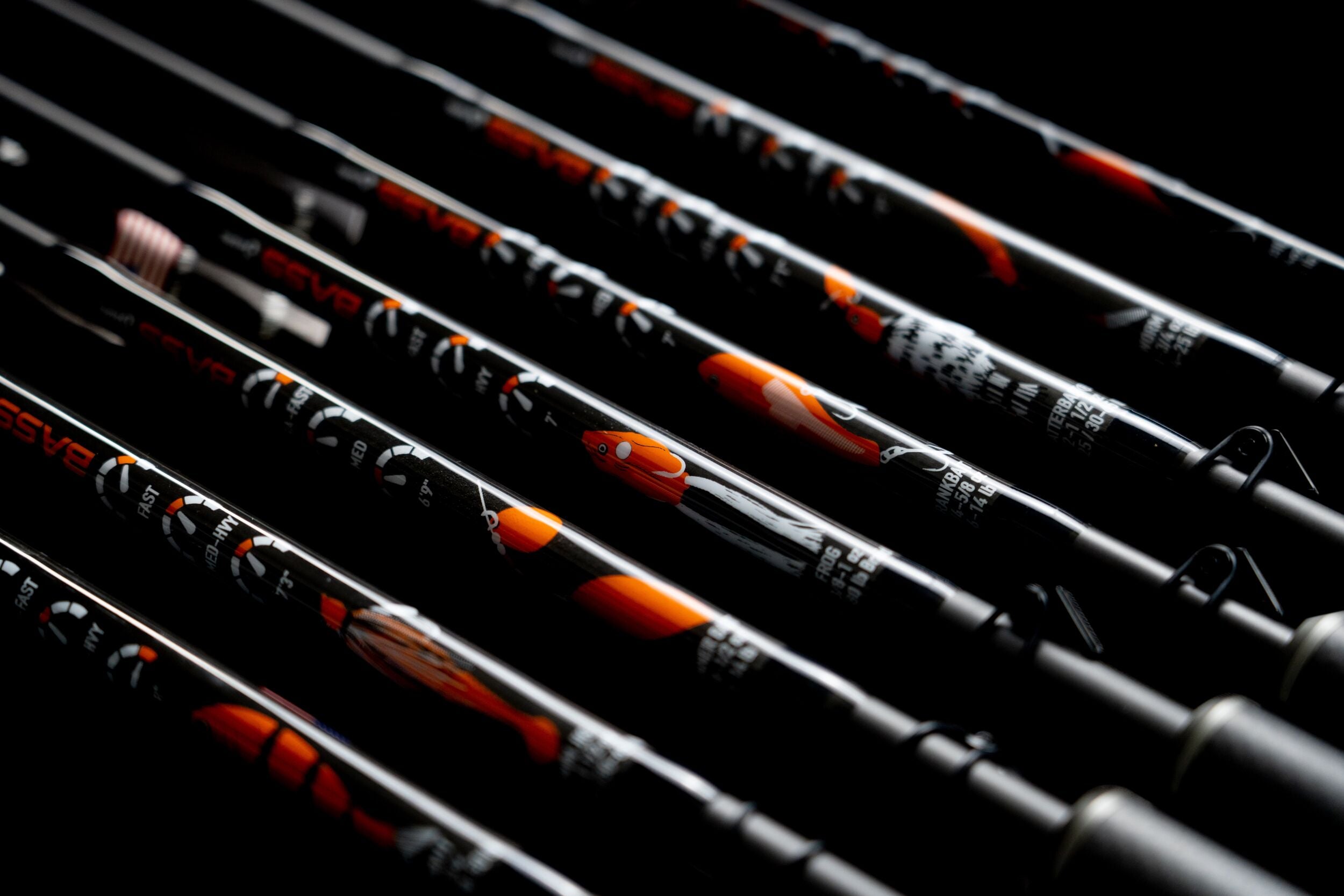 Bonafide Boss Bass Fishing Rod
BUILT IN THE USA
Quite frankly, it is hard to beat the quality of rods built in the USA.
BAIT ICONS
Quickly know what to throw with easy to see bait icons on the rod. You'll love having these visual queues when preparing for a day fishing and while you are out there.
ROD BUTT
Rubber base helps keep the rod from sliding when resting against a dock or tree. And in a boat or kayak, the strong carbon fiber rod butt takes a beating. The rubber base quiets the blow when sitting in a rod holder.
ROD GRIP
No slip EVA foam grip keeps the rod comfortable even with dirt, fish slim or water.
FUJI ADJUSTABLE HOOK KEEPER
Keep a single hook hidden and right where you want it so that when you are handling the rod, you are less likely to hook your hand.
FUJI MICRO GUIDES
Increase casting distance by centering the energy of the line from a seated or standing position. This allows you to cover more water to catch more fish.
LIMITED LIFETIME WARRANTY*
Every Bonafide rod includes a limited lifetime warranty against manufacturing defects!*
If your rod fails due to workmanship or a factory defect, we will replace it with a new rod of the same or a comparable model at no charge.
If your rod fails for any other reason, we will replace the rod for a fee of $175 + actual shipping costs. Rods can be replaced one time for the original owner.
848029000171
THE BOSS BASS SERIES OF RODS IS THE RESULT OF MONTHS OF R&D AND HAS BEEN CAREFULLY DESIGNED FOR ULTIMATE FISHABILITY™
Free Shipping on all orders over $50
Free Returns and Exchanges
We Price Match
Expert Curated
Description
AMERICAN MADE Proudly manufactured in the USA Blanks are designed and manufactured in the USA Rods are made by the best rod and blank builders on the planet American made Carbon Fiber American made Carbon Fiber Pre-Preg Epoxy is formulated in USA HIGH PERFORMANCE CARBON TECHNOLOGY Advanced Interface Bonding (AIB) - AIB is a combination of mechanical and additive technology to create ultra high bond strength at the interface of carbon fiber and epoxy matrix Proprietary Weight Reduction (PWR) Engineering - Novel reinforcing strategy to increase hoop strength but limit weight increase High Tg Epoxy (HTE) formulation with AIB - Novel epoxy with impressive mechanical properties and high modulus for increased blank sensitivity Intermediate Modulus Carbon Fiber combined with Standard Modulus Carbon Fiber for perfect mix of sensitivity and durability ROD FEATURES Rod Action and Powers that are Technique Specific Fuji K-Series micro-guides for increased sensitivity and casting distance Hypersensitive Carbon Fiber Reel Seat for vibration transition Fuji moveable hook keeper Carbon Fiber Fighting Butt, 3K Twill-Woven, Matte Paint Ergonomic EVA rear grip for all day comfort